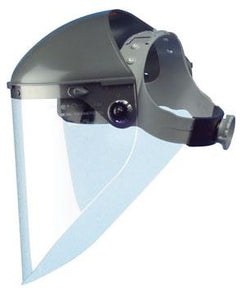 F300, F400, F500, and Dual Crown Series Faceshield Headgear
Item Number:
F300
---
A variety of faceshield headgear with crown protectors provides the level of protection you need. All models feature lightweight and heat-resistant Noryl® crown protectors and ratchet headbands. Meet ANSI Z87. 1-2003 High Impact.
F300 lightweight faceshield headgear provides general face protection for light-duty applications. Easily fits over spectacles, leaving room for air circulation to prevent fogging. Accommodates standard size windows. 8" X 11 1/2".
F400 features a deeper 4" crown protector to extend protection without increasing weight. Incorporates wide-vision wraparound windows and screens which provide 40% more protective area than standard size faceshields. Fits easily over required spectacles or respirators. 8" X 17".
F500 includes a broader, deeper 7" crown protector to provide an extra margin of protection when harsh working conditions require it. Features the exclusive Channel Grip System that mounts wide, wraparound windows and locks them into place to form a perfect seal from dust, dirt and debris. Includes Fibre-Metal classic 3-C, free-floating headgear.
---
---
We Also Recommend