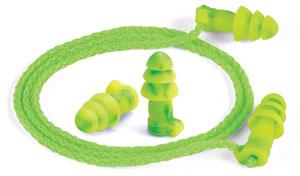 JETZ™ Reusable Earplugs
Item Number:
222264505
---
Ideal choice for cost effective hearing protection for most high noise environments. Brightly colored with hi-viz green swirls and bright green cord. Special grip at end of plug stem makes insertion and removal simple, even when wearing gloves. Extra-soft material and triple flange design gently seals without pressure for all-day comfort. Cord attachment with locking loop helps keep optional braided cloth cord securely in place. Washable, reusable and 100% PVC-free. Independently tested to ANSI S3.19-1974. 200 Pair/case.
® The bright green color is a trademark of Moldex-Metric, Inc.
---
---
We Also Recommend