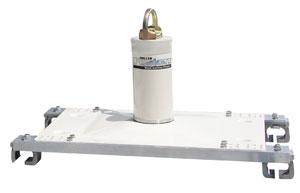 Miller Fusion™ Roof Anchor Posts
Item Number:
34156648
---
Permanent or temporary solution for roof safety. Versatile single-point anchor post accommodates most industrial roof designs including standing seam, membrane, built-up, metal sheathing, concrete and wood. Quick, easy installation to surface of existing roof structures reduces cost, requires minimal labor and eliminates roof penetration and repair. In the event of a fall, top of roof anchor post reorients with the force in a direct line and activates the patent-pending energy absorber, significantly reducing fall forces on roof structure. Durable design withstands changing outdoor environments. Steel decking, concrete and wood models can be used on other non-roof structures. Meets all applicable industry requirements including OSHA, ANSI A10.32 and Z359.1-2007.
• Multi-purpose roofing: Metal sheathing with 24-gauge min. thickness; 8"-20" trapezoidal spacing (1" increments); plywood with 5/8" min. thickness; concrete decking with 6 1/2" min. thickness, 3,000 psi min. concrete compressive strength.
• Membrane/built-up roofing fastens through membrane, insulation and into metal sheathing, wood sheathing or concrete.
---
---
We Also Recommend